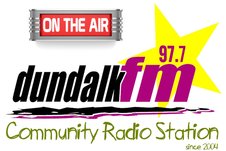 Dundalk Media Centre Board of Directors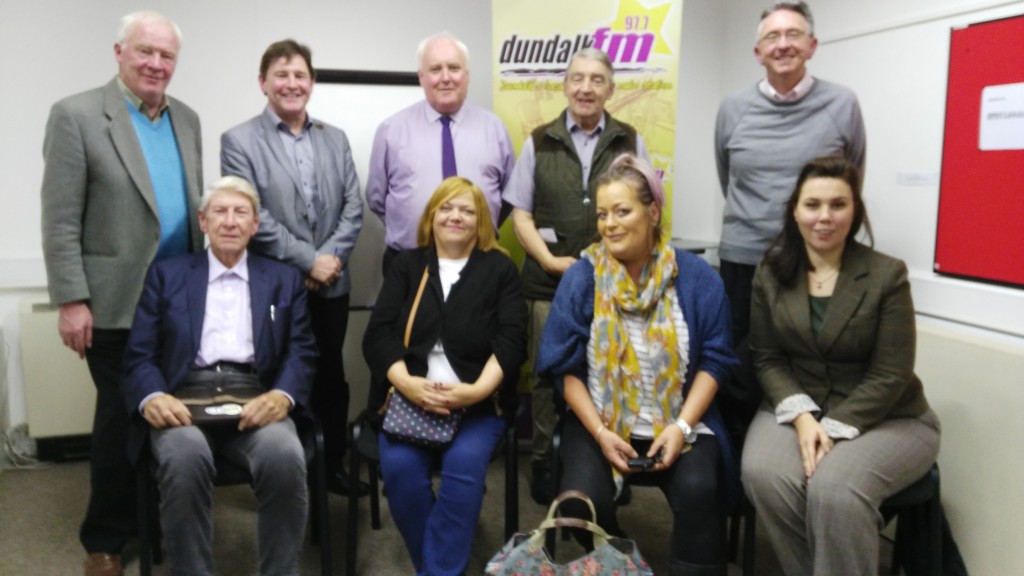 Back Row L – R: Eamon O'Reilly, Pat Byrne, Pat Hamilton (Vice Chairperson), Jim Ryan, Stephen Murphy (Chairperson). Front Row L – R Cathal Cassidy, Alison Lennon, Marissa Lucchesi (Secretary), Emma Coffey (Treasurer). Absent form the photo is Aidan Noone.
Eamon O'Reilly
Eamon is a retired Eircom engineer and also has experience in mediation for voluntary groups and has many years experience of chairing committee meetings. He produced two radio documentaries about a local company that makes batch loaves and also about the local pigeon club. Eamon is a presenter on the local history show and also on the current affairs show.
Stephen Murphy, Chairperson
Stephen has previous community experience as part of the Dillonstown Community Centre and is a pastor of the Dundalk Baptist Church. In 2005 Stephen took part in a media course run by Dundalk FM and since then he contributes to two weekly programmes. He has management experience in the Dublin City Library (1983-1988). Stephen wishes to use his skills to help the vision and direction of Dundalk FM.
Pat Hamilton, Vice Chairperson
Pat is a teacher in St Joseph's National School, Dromiskin. He has experience of being a treasurer in his local GAA club. Pat is interested in governance, finances and would like to make a programme about the annual Cooley Poc Fada. Pat's interest is in assisting in providing and serving specific 'niches' and in becoming competent in local community radio issues/workings.
Marissa Lucchesi, Secretary
Marissa is a broadcaster and researcher with Dundalk FM and works as a voluntary classroom assistant. Marissa is interested in arts, music, equality issues and youth development.
Marissa contributes to the local newspaper and also contributes to magazines. She also has experience as a theatre producer and also in film development and production and music management. Marissa has professional experience as an executive in sales and marketing, HR and conflict resolution. Through her role as a presenter of the morning current affairs programme, Marissa has established a strong connection with the community sector in Dundalk.
Cathal Cassidy
Cathal is a board member of the Cuchulainn Credit Union and contributes to two weekly programmes on Dundalk FM. He has over fifty years of experience as a self employed manger in the grocery, bar, off licence and video/music business. Cathal's interests are in dealing with community interests and problems.
Aidan Noone
Aidan has experience in transmission and electrical circuits. Aidan has produced documentaries such as The Life of Patrick Kavanagh and is the producer of the Saturday morning current affairs show The Brunch. Aidan has experience in HR and community organisation governance.
Jim Ryan
Jim presents a popular Classical Music show every Sunday at noon – 'Classic Sounds'. He is interested in sports, current affairs and all types of music especially jazz. Jim was a previous member of the Board and is interested in promoting Dundalk FM because it is an important local community service. Jim has over thirty years experience with Lyons Tea in the area of Merchandising, Advertising, Marketing and Sales.
Emma Coffey
Emma qualified as Solicitor in 2006 and set up her own practice in December 2014 and works in the following areas: conveyancing, arbitration, licencing law, probation, civil litigation, road traffic matters and family law. Emma was appointed as Treasurer of Dundalk Media Centre in October 2016.
Alison Lennon
Alison has a Doctorate in Medieval History and Archaeology and has designed and delivered a number of lectures as part of the Extra-Mural Lecture Series offered by the Medieval History Department of Trinity College and tutored in Trinity College while studying for her PhD, teaching groups of 1st and 2nd year students medieval history
Alison continues to deliver lectures in her area of expertise: the medieval archaeology of Counties Down and Louth.
Pat Byrne
Pat worked for the Bank of Ireland for 41 years. He was involved in a range of local organisations e.g. Sport (Soccer Club Chairman & GAA Committee member), Lions Club (incl. President), Rotary, County Development Board, Special Olympics Host Town Committee (Chairman), Tsunami Charity Fund Raising Committee (Chairman), Chamber of Commerce (incl. President). Currently on Board of Management in local school and feels that DMC offers an exciting opportunity to contribute to the local community.
Board Meetings are at 7pm on the third Tuesday in the Community Offices, Partnership Court, Dundalk.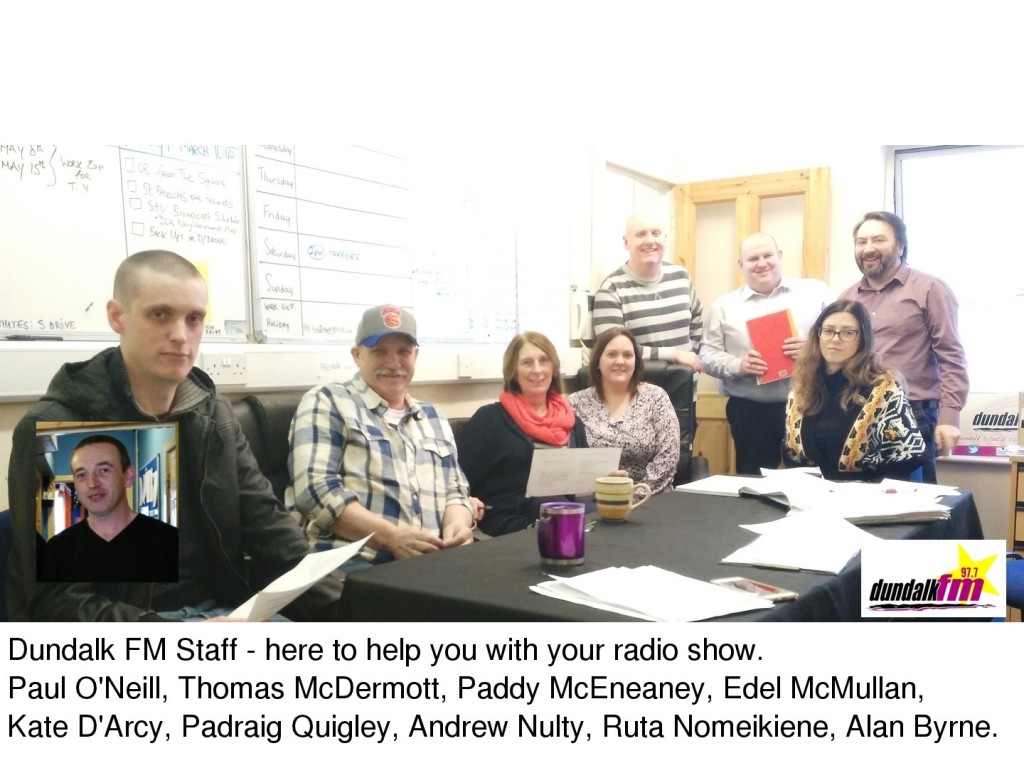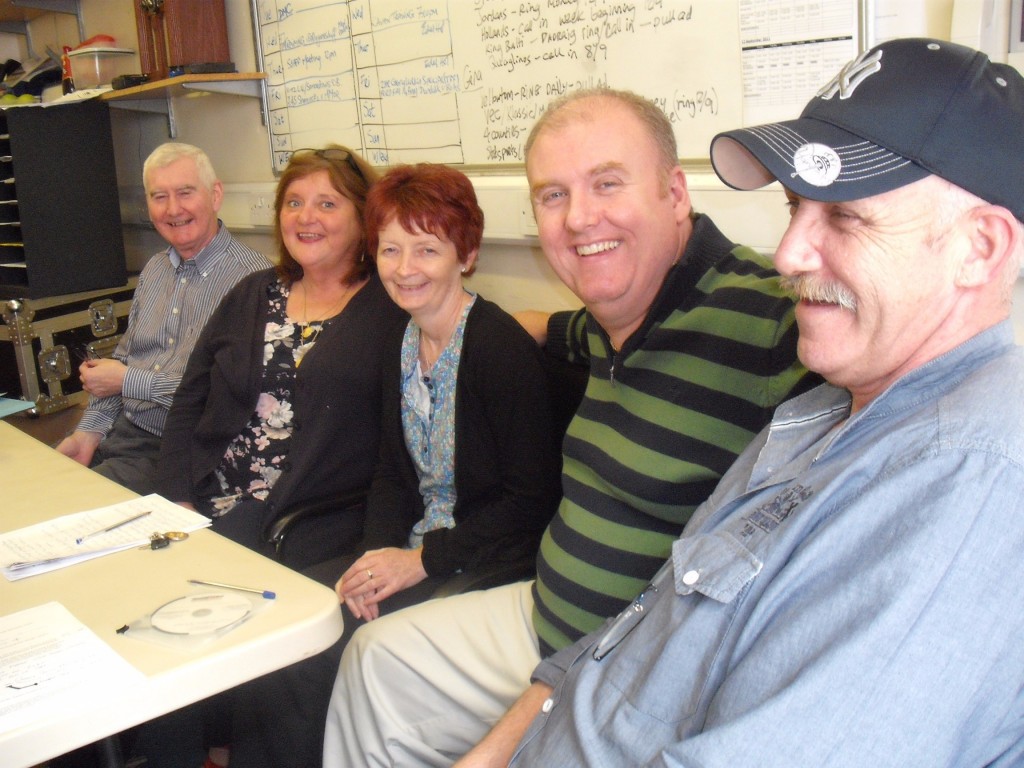 Dundalk FM Staff
You can call 042 939 51 00 and reception will put you through directly to staff.
Alan Byrne, Manager alanbyrne@dundalkfm.com
Padraig Quigley, Assistant Manager, Programming, OB's, Website padraigquigley@dundalkfm.com
Paddy McEneaney, News, Community Notices, Training paddymac@dundalkfm.com
Edel McMullan, Current Affairs, Interviews edelmcmullan@dundalkfm.com
Ruta Nomeikiene and Kate Darcy,  Accounts and Administration info@dundalkfm.com
Paul O'Neill, Evening Duty Manager, Spotlight Show pauloneill@dundalkfm.com
Thomas McDermott,  Weekend Duty Manager thomasmcdermott@dundalkfm,com
Advertising
Andrew Nulty      Andrewnulty@dundalkfm.com
Joe Duffy       Joeduffy@dundalkfm.com
Dundalk FM Board of Directors Meeting dates 2017.
Programme

& Technical

Meetings

Finance

Committee Meetings

Board

Meetings

January

3rd 

10th
17th

February

7th

14th
21st

March

7th

14th
21st

April

4th

11th
18th

May

2nd

9th
16th

June

6th

13th
20th

July

4th

11th
18th

August

1st

8th
15th

September

5th 

12th
19th

October

3rd

10th
17th

Nov

7th 

14th
21st

Dec

5th

12th
19th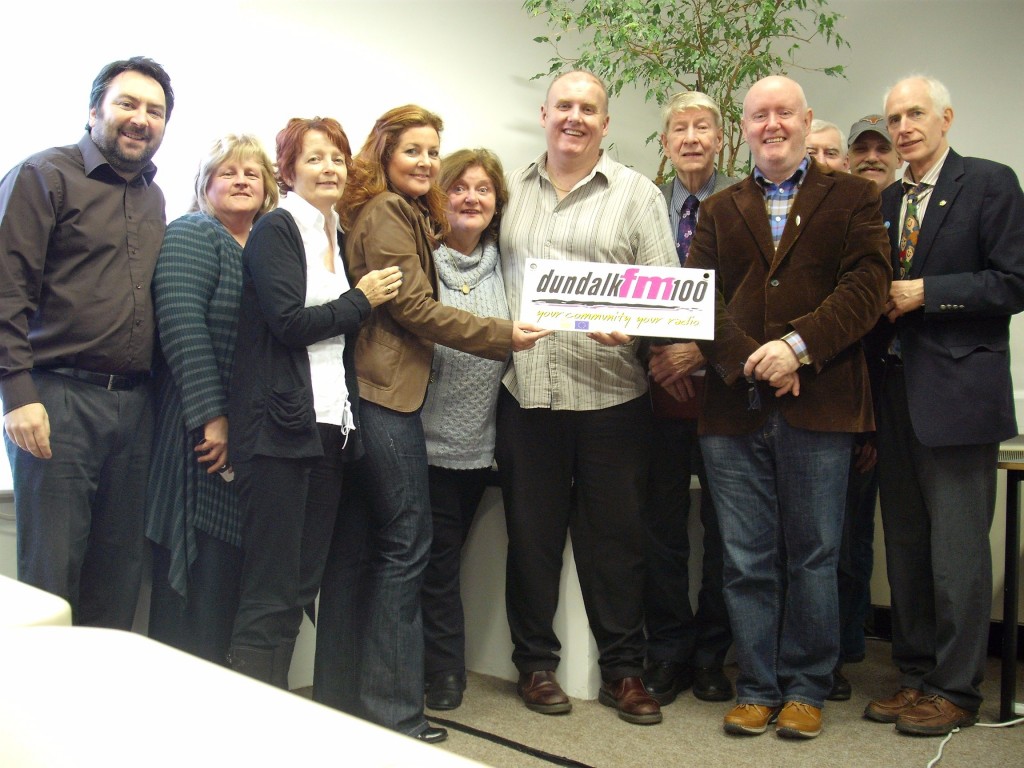 Alan Byrne, Geraldine McCullagh, Gina Clarke, Eileen Corcoran, Bernadette Breen, Padraig Quigley, Cathal Cassidy, Aidan Noone, Michael Nulty, Paddy McEneaney, Charles Barker.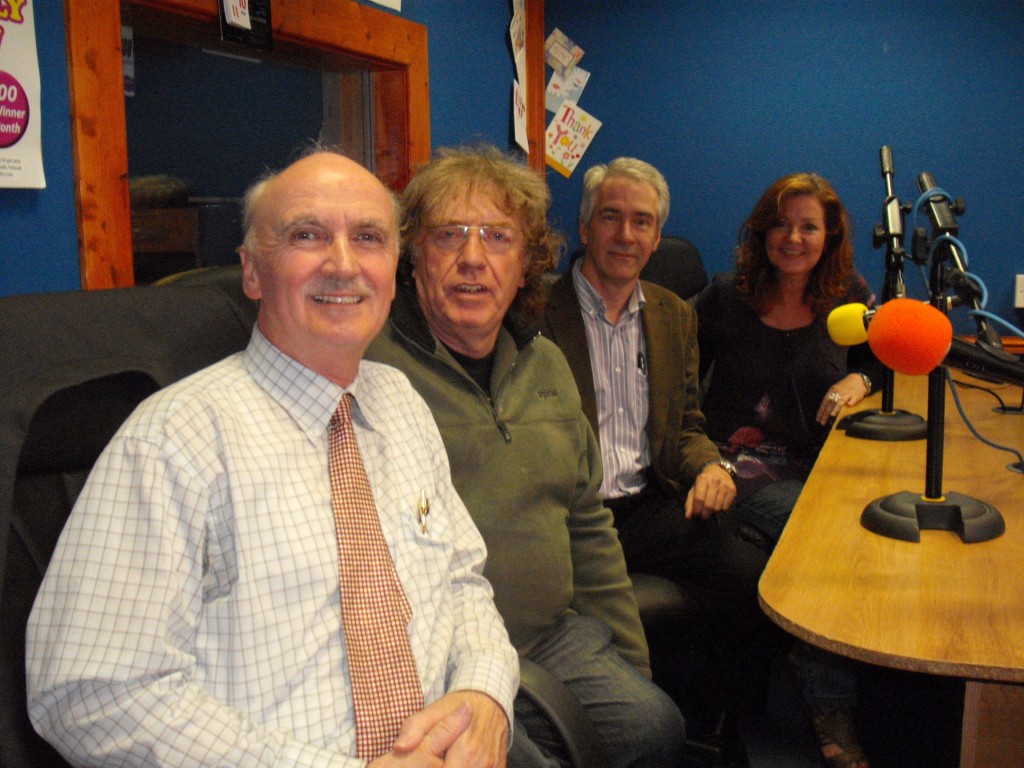 Programme and Technical Committee
Members: Marissa Lucchesi, Sean Callaghan, Pat Byrne, Padraig Quigley and Alan Byrne and open to all members and people with new programme proposals.
Terms of Reference
Examine and make recommendations on programme proposals, demos and provide feedback to their contributors.

Review programmes on a regular basis and ensure that all BAI and other related requirements are being satisfied.

The sub committee will be comprised of at least one Board Director, three representatives of the radio presenters/technical persons, broadcast staff and the Manager of the Dundalk Media Centre.

The sub committee will meet at least once a month and will report on a monthly basis to the Board of Directors.

The sub committee will strive to make decisions by consensus or simple majority. The quorum for all meetings will be three persons.
Programme and Technical Meetings are at 4.30pm on the first Tuesday at the Dundalk FM Offices and are open to all members and people with new programme ideas.
Management and Operations Committee (Office Holders)
Terms of Reference
Follow up on actions from the Board Meeting.

Keep track of progress of the Strategic Plan activities.

Advise and support the Manager.
Funding and Finance Committee
Members: Emma Coffey (Treasurer), Pat Hamilton, Cathal Cassidy, Pat Byrne, Stephen Murphy and Alan Byrne.
Terms of Reference
Agree the Annual Budget.

Indentify sources of funds.

Ensure cash flow is sufficient for the business.

Ensure financial guidelines and companies registration office compliance.

Set pay rates for staff and external projects.
Finance Committee Meetings are at 7pm on the second Tuesday at the Dundalk FM Offices.
Human Resources Committee
Members: Aidan Noone, Stephen Murphy, Eamon O'Reilly.
Terms of Reference
Help resolve issues regarding staff and volunteers in relation to the Grievance and Disciplinary Procedure.

Ensure all recruitment follows procedure including creating Job Descriptions.

Ensure the Annual Appraisal is carried out and a Training Plan created.

Organise a Training Calendar of events and refresher courses as required including board, staff and volunteer training and exchange.
Sound and Vision Committee
Members: Alison Lennon, Marissa Lucchesi, Alan Byrne.