Congratulations to the 100% show – winner of a Craol Music Award held at the Regency Hotel 0n May 28th 2016. Tracey Hanby is one of Ireland's best known Irish Music promoters. The 100% Irish Show is a National Chart of the top Irish tunes. The judges said the show was 'innovative, well produced, stylish and, above all else, 100% Irish!' Tracy chooses an upcoming tune called 'One to Watch' which is featured on Dundalk FM each day of the week.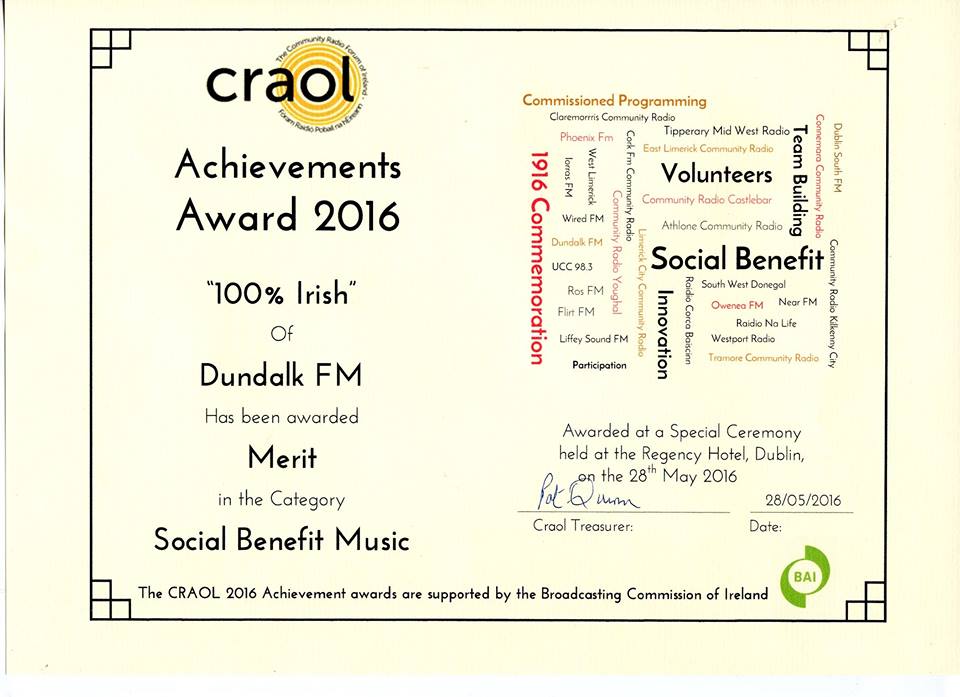 Dundalk FM 100% Irish, the National Chart Show is hosted by Tracey Hanby of Gigs Ireland and is on every Wednesday at 9pm and Saturday at 10pm on Dundalk FM or via Tunein App for online listeners.
The show has been up & running since 2014 and has a  growing listnership tuning in to hear a national chart featuring Irish artists charted using IRMA, ITunes, Spotify, Shazam & other charts programmes.
Other songs featured are 'Gigs Irelands #PlayIrish', 'Dundalk FMs Listeners Choice' & the very popular 'One to Watch' which bands have been submitting their new release for consideration by sending an Mp3 to tracey@gigsireland.ie
The 'One to Watch' closes the show and is featured on other shows throughout the week on Dundalk FM so well worth submitting for.
On occasion there is featured interviews from charted artist such as The Corona's:
http://youtu.be/dGo5HPzeL3I
The show has been endorsed by Stuart Clarke of Hotpress:
Here is a recent playlist:
Tune in via Tunein App:
Get in touch:
Facebook https://m.facebook.com/100percentirish
Twitter http://twitter.com/gigs_ireland
Email tracey@gigsireland.ie